I think this tutorial i made should be on every site that has anything to do with PS2 Gaming, you would be suprised but there are still many people out there that have no idea where it is, or how to properly clean the PS2's Laser lens.
Okay, begin by flipping your fat ps2 upside down, there will be 8 little black squares, 4 of them will be rubbery, the other 4 will be plastic.
Peel the rubber ones of, it doesn't matter with what as long as you get the off, and pop out the plastic squares with like your finger nail or a pocket knife.
Then there will be various screw sizes, most of them only need a regular phillips screwdriver though.Unscrew them all, hold your PS2 by the sides, flip it right-side up,and by the power switch and video cable, there is a warrenty sticker you won't be needing this seeming how ps2's only sell for about $30 these days so you can just remove that sticker,then take out any memory cards or controllers, carefully life the top part off towards the standyby and eject button, there will be a flexible like thing attached to the inside of the PS2 to those buttons. Once the top is off It will look similar to this.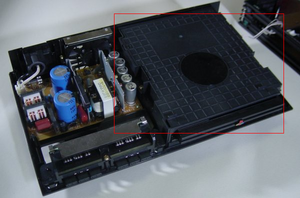 Where i outlined in a red box, unscrew all of those screws as well, theres about 6 if i remeber correctly, then pull that part off (might be a little tension but it's okay) then you will see the disc tray and things beneath the tray.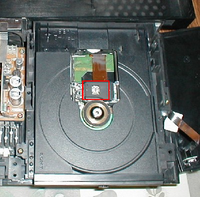 Boxed in red is the laser. To clean it get some Q-tips, Cd cleaner or Alcohol, and 1 kleenex.
Spray or dab an end of the q-tip in the cd cleaner or alcohol and rub in a straight line motion ( so just rub up and down) then with the kleenex take a corner and just brush it up against the laser a few times.
Put it back together in the same order you took the ps2 apart, and everything is readable again.
!!!-I take no responsibility if you mess up cleaning your ps2's laser lens, this guide is perfectly written to ensure you do not mess it up-!!!
Edited by Endever, 30 August 2006 - 09:03 AM.