So, I did one of these for every mission in HITMAN 2016, and I have done one for Nightcall.
It's time for "The Finishline".
The rules are the same as before. These improvements are to the level design and not the mechanics or other gamewide things. It's also changes that are supposed to be relatively "small". No massive overhauls.
This one was quite difficult for me. Therefore most of it will be adding opportunities and not a lot of "fixing" existing stuff.
Mass Pile-Up
The race is quite dynamic with many outcomes, but one I'd like to see is the "no winner" one. You can already do this with the computer in the building with the club, but really, this struck me as more fun.
Basically I suggest the ability to tip barrells of oil over the race track. The cars pile up and the race has to be stopped. Result: No winner. No lethal outcome.
Sheikh Al-Gazali
It might seem a tad bit too similar to Paris, but I feel like The Sheikh needs to have a purpose in this mission. In this scenario the Sheikh wants to meet the winner in their paddock. In the case of Sierra this means a private meeting on the second floor in the Kronstadt paddock.
Buying a VIP Ticket
Really, either with coins, or some other means I would've loved to be able to get a ticket from this dude. It just feels right.
The Phone Call
I love the phone booth stuff in this game, but why do I have to plant the car bomb in order to call Robert Knox, isn't it enough to have the info found in the safe? Just give the player the option to either tell the truth "I haven't planted the bomb yet" or lie "I've planted the bomb, let's meet".
Ted Mendez
It makes no sense to me that Ted Mendez never heads inside. Give him a clock, or the ability to fetch him as one of Knox's guards.
Once this is set into motion I suggest that Mendez has particularly bad eyesight, and as such you can switch out one (or all) of the dummy cards with pictures of Robert Knox.
Mendez feeds in the picture that kills Knox.
Even without this particular addition I see no reason for Ted Mendez not to eventually head inside.
Getting the Drop on Sierra
When Sierra meets with the Flamingo I really feel like there's something extra missing. This might be it. From above, 47 should be able to drop something heavy on Sierra. To make it something somewhat original I'd suggest that there's a visible break in the wall up there, and using explosives you can cause a chunk of it to fall down. As a tool based version of the same kill I suggest that you could weaken the structure further with a sledge hammer (a new tool added into the game), and then use a crowbar to tip it over.
Van Escape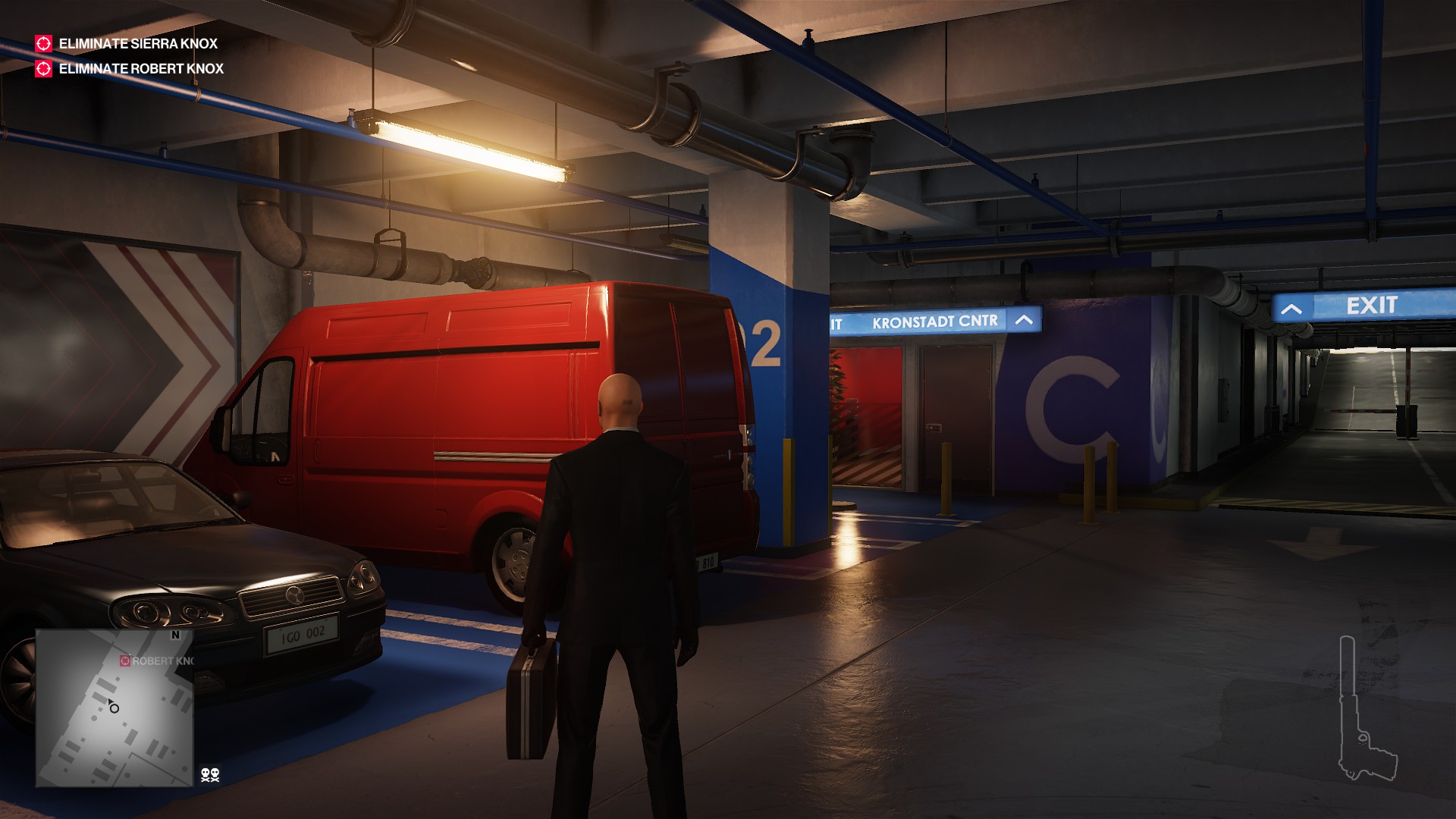 I really like the agency pickup point in the red van, it adds a classic spy/assassin feel, but surely this could also be made into an escape point? It makes sense… and I'd love to see 47 get in the van and honk the horn to get someone to move out of the way as he drives out of the garage.
---
The Finishline is quite a well crafted level, which made this quite hard… but somewhere in this list of new opportunities there's at least two real criticisms (who knows, maybe more), so maybe that's good enough.
Anyways, this is my list. Anyone have comments or points of their own?