I'm not sure if this deserves a topic of its own or they should just belong in the Contracts From HMF Members thread? Anyway, the idea is simple. We create puzzle style contracts that seem impossible to complete in 47 seconds. Undoubtedly they're going to involve gimmicky methods, but it's a great idea for us to discover and share useful strategies that can be used elsewhere. Along with the obvious time limit challenge, feel free to add an additional challenge. To start the ball rolling I've come up with three and provided my benchmark times. If you're interested in this, then re-creating them for each other would be greatly appreciated.
For the moment, at least, I've restricted it to single targets. But if this takes off, then it might we might consider changing this, including the 47 second time limit if that limits the opportunity to share great puzzle ideas too much.
Also please don't spoil the puzzles for others. Obviously videos require an active click to see how it can be done, but please use spoiler/hidden tags if you're going to discuss a workable method.
ID: 3-12-4906580-05 (Xbox); 1-22-9117739-32 (PC by @Hardware)
Additional challenge: Hide body
Benchmark: 37 seconds

---
ID: 3-22-8050824-05 (Xbox); 1-22-6396432-28 (PC by @theWizard)
Additional challenge: Suit
Benchmark: 43 seconds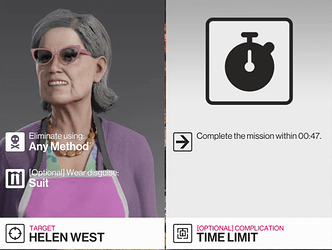 ---
ID: 3-21-8427074-05 (Xbox); 1-21-0423698-32 (PC by @Hardware)
Additional challenge: The time limit is really tight
Benchmark: 45 seconds