HITMAN - I should buy a boat (0:46)
The Very Final Test @Urben 1:00
Hitman 2
Contract Name: GENIUS TEST 01
Contract ID: 1-01-1086215-79

Alright, here's a real one for H2. I was gonna do an earlier map but for some reason we ended up with this.
Crate Expectations (Sgail): 1-21-2394497-02


TARGETS: Four Custodians, all roughly in the same area.
COMPLICATIONS: No Disguise Changes, No Pacifications.
Contract contains no RNG except whatever's inherent to distractions now. The Old Axe is always in the same crate, as is the Circumcision Knife; only the crates in the main room on the first floor are randomized.
Doctor Wars (Miami): 1-11-1592184-02


TARGETS: One doctor near the medical area at the track.
COMPLICATIONS: None.
Here is my first contract in HITMAN 2.
Title: The Valiant Little Tailor
Platform: Xbox One
Contract ID: 3-13-1201707-76
I made contracts getting rid of the "clues" in Another Life and getting rid of Maelstrom in Chasing a Ghost. They are titled:
"Just Targets, No Clues :)"
2-22-3889082-98
"No Maelstrom :)"
2-13-1397056-98
The content that you want, nay, NEED!
Made a new contract: Ninja Golf Coach. Don't remember the ID, but it's a 3-target PC contract.
EDIT: ID is 1-03-1435734-17.
I remade "I Hate Flowers" on Hitman 2 just to see what differences there are. Warning there's only one breach charge unlike Hitman 1 where there are 2 breach charges.

PS4
2-03-8065034-01
Just made my first contract for Hitman 2.
Name: Wraith of the Pale Rider
ID: 1-11-2980622-58
Location: Miami
Objectives:Kill all race drivers except Knox and Lee as Pale Rider with the Fiber Wire
Enjoy (or if not pls give me constructive critic)!
contract for Hitman 2
Contract ID : 1-11-4837984-93 Platform : PC
Contract ID : 1-12-0479071-93 Platform : PC
Contract ID : 1-13-4359215-93 Platform : PC
Aww… Iwe been thinking about this kind of contract for a long while now, but as usual for me, i have hard time getting things done, and thus you did it first. Oh well
Note we have a new thread:
Maybe we need to put this thread into purgatory, but that would be shame. I bet many want to look up something here in the future. Gonna change the title.
Contract ID: 1-22-9803766-93
You will not run away from destiny
Conditions: One purpose, falling, complications!
Can we just appreciate this video for a moment by GuLe
3:30 wowed me

Btw @GuLe im searching for a video where you use the Striker in an escalation in Sapienza. Something with the bullet travel time. Do you have any idea what I mean?
Sidsel from IO talks about it here
34:15

Link to video
Thanks m8!
I think she's talking about this one (in Hokkaido)
Made something for myself, probably doesn't flow too well outside of what I intend. Idk. I still like playing H16.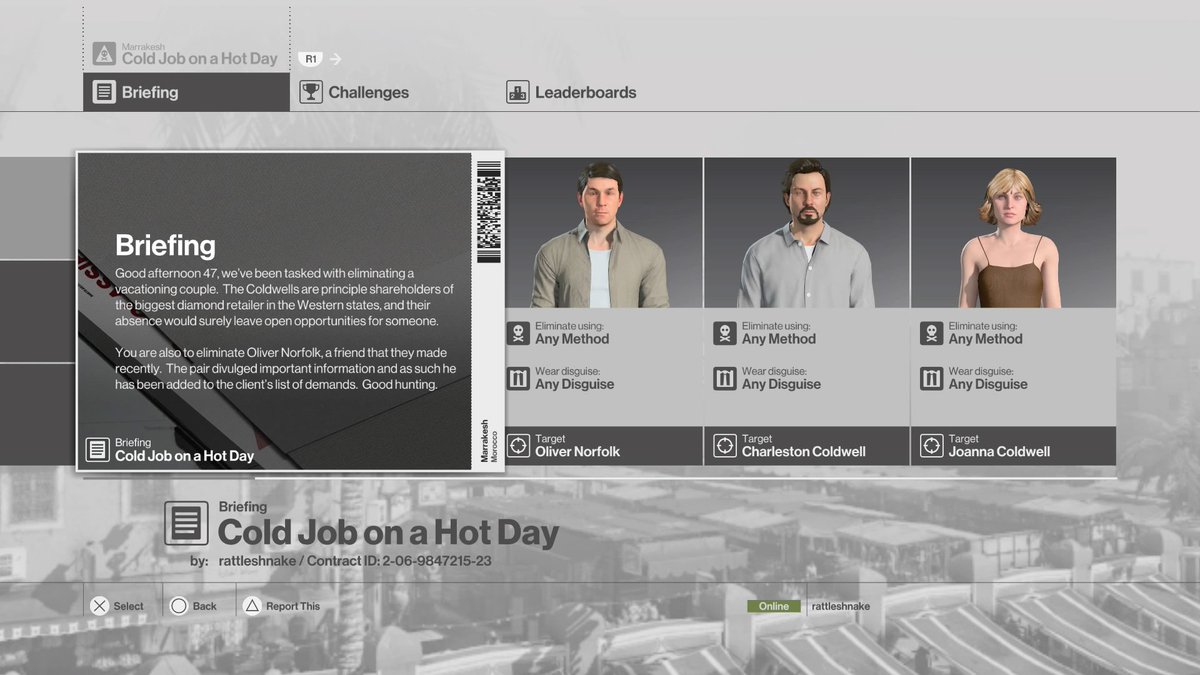 btw I miss you dummee, your name looks better as OP than "system".
Hi guys,
I've made a number of contracts in Hitman in XB1 recently and I just downloaded the free Legacy Pack in Hitman 2. I was wondering though, since contracts and challenges don't carry over. Should I continue making contracts in Hitman 1 or will more people be playing the Legacy Pack in 2?
Anyway here are some contracts. From now on I'm adding my username "evilmer0dach" in the description. Some of my contracts are real quick and easy, others are much harder and more like puzzles. I think user made contracts is where Hitman really shines.
For XB1:
Saber Sophus Fatale: As the title says… In Paris kill Dahlia's friend with a saber. SA SO
House Knifing: Kill 5 maids with knife in Sapienza mansion. SA SO
The Maid Evasion Sniper: 3 targets killable from 1 room in Sapienza, without alerting or killing the person who's in that room…
Stealth Snipe The Waitress: I did this with a loud sniper. But from inside a building you're often not heard. So I remained unspotted. I loved this contract, my strategy for doing it anyway…
Double Brain Burger: A sniper timing contract. Again from indoors. I wish you could get points for how few bullets you use. That would make penetrating shots more worth while.
Clown Axe Church Massacre: Get messy in church as the Street Performer with an axe.
Shotgun Clown: High profile psycho shooting…
Ruining Sniper: some fun targets, some requiring timing. Wish I could have limited the time to shorter, that would make it more interesting. But alas marking doesn't work long distance.
Lovers Heads Collide: Uniting a couple in a dying relationship…
I also have some effective contracts for certain Sapienza Challenges:
All Master Sniper Challenges In 2 Runs: A great easy contract for doing what it says in the title.
All Plumbers Apprentice Challenges 1: A contract I'm very very proud of. Even the description. Haven't finished no. 2 yet though, so you only get half the challenges.
My contract, Cold Job on a Hot Day (bad title it was late and I wasn't sober)
My original intention was to get the couple last, it flowed better but it's not worth the effort so this worked out instead.