From guidelines and suggestions, to Regulars nominating their fellow members, to over 70 users voting in often razor tight polls, it is finally over. The Hitman Forum Awards 2019 concludes, as we announce the 14 members on our community to win across the 14 categories, and to list the number of Shouts Outs users have chosen to bestow upon the dearest members of our community.
I hope you have had as much fun participating in this year's awards as I have had hosting. To follow on from @EricTheAussie, @Soar7, and @Defaultskin's previous turns as the Hitman Forum Awards hosts was certainly challenging, but I hope I managed to meet everyone's standard.
I wish to also thank @scm97tl who has helped me with ideas, editing, improving my often atrocious grammar, and has been kind enough to write the little biographical paragraphs you will find accompany each winner. I also wish to thank @Pyhsix who despite not having ever talked to me previously, was willing to step up to the task of providing 28 fantastic pictures to accompany our nominations and winners, as well as proving the gorgeous fonts and colours that overlay them.
Now, without further ado, let us reveal this year's winners!
Urben is our dear winner of the User of the Year award thanks to a lot of the cool stuff he does, just to mention his awesome videos on gameplay (especially the ones for ETs, because who else would have being crazy enough to kill The Revolutionary with the traps of the secret passage) and also the fact he became a valuable member of the forum itself as a recently appointed moderator. Congratulations, buddy!
Urben is at it again by winning this price. Popular in the community at the forum and Youtube thanks to his creative approach in the solutions for various of the game challenges, let it be an unexpected way to take out a target, the discovery of an unexpected game mechanic or just a cool contract. Again, congratulations!
Agent.Smith is our most missed member, mainly because he won't even know he got this award because he passed away by suicide. Let this award given to him be a reminder that if you ever feel in the way he did, do your best to search for the help you need before doing something that has no way back. May he rest in peace.
SeanBernowicz is our funniest member of the year. Just check the Funny thread and you'll see why: a fine selection of memes and pictures, and no doubt those Florida Man ones have a lot to do with him getting this award. Congratulations!
Piano_Man wins this title, and if memory serves well, it isn't the first time. He has always being the top topic creator around here, let it be a thread for you to have a cool time playing various games he invents himself or a place for further discussions about various topics. That being said, his Torture Chamber thread for the ultimate trivia questions of the Hitman franchise could use a revival.
Accidental-kills98 get this award because basically, he is in pretty much every thread you can find and normally gets the first comment, even if it's something that most likely has nothing to do with the topic being discussed and more about coffee in Australia or something that might be a bit weird, but that's part of the charm. Congratulations mate!
Fortheseven is a veteran speedrunner in the community. Let it be you got to know him from the SA/SO Shogun Showdown video, completing a featured contract in record time or killing himself by electrocution because a misplaced explosive duckie during the serial killer granny ET, you'll find yourself with something impressive about how the Hitman games work.
IndianAgent47 is our most recent artist in the forum, normally making a lot of cool pixel art, but what got him here is without any doubt his art posts of Dawood Rangan during the event of "47 days with a profile picture of a target from the Hitman universe", to the point IO Interactive officially hanged some of his artworks on their studios walls. You deserve this prize for such awesome accomplishments!
Akira23X and doom-generation are the forum's favorite couple! After all, they officially showed their love to us in pictures from their first time together, and they look so cute when they are with each other. We hope you both keep the love going and we all are happy for you two, cutie silly birdies!
Urben once again is at it with the winning streak! This time, because of his constant input of quality content for the game with the creation of contracts that both under the eyes of the developers and players are fun to play because of the challenge they represent or the interesting twists they involve. Once again, congratulations!
Ibbe040 is our nicest member this year. He shows us how some small acts of kindness and being generally pleasant towards people help a lot to keep the forum as a nice place we all can enjoy. Thanks for being there to cheer us up with the power of being a good person!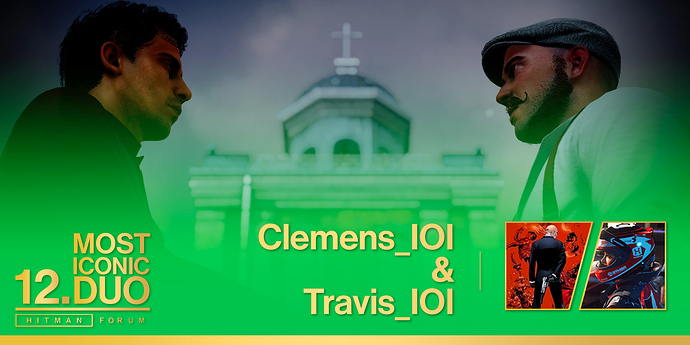 Clemens_IOI and Travis_IOI are the most recognizable IO employees in this forum because of their interactivity with the fans, and also because a certain one of them look cools announcing the roadmaps for each month. This prize is for them to know we appreciate their efforts and commitment to reach the fans of their franchise.
cake941 is our Role Model of the year. He has being a member for a while but wasn't until recently he showed up what he was capable, by first overcoming his difficulties to communicate in English and finally by becoming a moderator of the forum while at the same time being present in the Discord and Reddit spaces. A big congratulations for him being an example on improving yourself everyday!
doom-generation is one of the most recent members and also our winner this year for the Best New Member award because in the relatively short time he has being around here, he has already made himself a name in here and forms part of our most active members too. Congratulations for achieving so much in such a short time!
SHOUT OUTS!
It is time to see all the Shout Outs that I have received throughout the month. Miss the chance to contribute one yourself? Then Shout Out! someone in the reply section of this thread and give them a chance to shine. There may only be 14 winners, but there are certainly no losers on Hitman Forum.
These Shouts Outs are listed in no particular order. I'll try my best to tag everyone mentioned specifically in the comments. Let's go!
From @Travis_IOI:
"Shout out to everyone that submitted a featured contract, suggestion, question, comment or bug report. In different ways, you have contributed to making HITMAN 2 the success that it is. Thank you.
Shout out to the moderation team for everything that they do, and for allowing HMF to become the 'semi-official' place for discussion."
From @Jordan_Cross:
"IndianAgent47 as an artist for his wonderful artworks of Dawood Rangan
Urben for his crazy assassination skills
Franz for his sense of humour
SeanBernowicz and Accidental-kills98 as both Iconic Duo and Cutest Couple
Accidental-kills98 as Most Active Member"
From @Gontranno47:
"I'd like to shout-out BodganMD, the forum's resident doctor, from the land of 47! It's always a pleasure to see him giving out expert knowledge and not long ago, he helped me by double-checking the medical aspects of my book and for that, I think he deserves a shout-out!"
From @AgentJames:
"I would like to do a major shout out to Sniff for the consistently high quality contracts he creates (four featured that I'm aware of), and his mature and thoughtful comments in both this forum and elsewhere.
Of course, and I know that I'm not the only one, I'd like to do a MASSIVE shout out to @PEA for his major video contributions!"
From doom-generation:
"Shout Out to Ibbe040, who I see going out of his way time and time again to help people with their issues with the different versions of the game. His efforts do not go unnoticed.
Shout Out to David47, who hosted one of my absolute favourite threads on the forum, the Player-Made Elusive Contracts (PS4) thread. A beautiful hub of creativity, storytelling and roleplay."
From SeanBernowicz:
" Honestly, I think we should give a shout-out to Jarbinger, for keeping this place running and devoting a lot of time to it.
Let's give another shout out to Uber; even in the face of constant failure of his plans, he refuses to give up, so I have to respect his dedication to his craft.
And I don't know if [Silvereyes] is allowed to have a shout out, but if not, I would like to thank you for all the great forum games and threads you've made.
A shout out to all the mods (Kent, Watson, Urben, Cake) except Mads, for helping run the place as well.
A shout out to MrOchoa, who defies societal norms to insist that C47 is a good game. Even if he is wrong, he's unique.
And finally, a shout out to me, for allowing you all the honour to be in the presence of a God like myself."
From Urben:
" Shoutout to mendietinha:
Mendie is a great player and friend, he even got a Guinness World Records entry!
However, on his shoulders he carries a lot of weight. He thinks this is a burden for us but remember that friends are always with you! The bonding stays strong like you are! Thee you!"
And finally, MaxKroon would like to give a big Shout Out! to SeanBernowicz, doom-generation, and Accidental-kills98.