So this is Machine Games latest entry into the Wolfenstein series, a co-op focused game (you can play solo by hosting a local instance and not letting anyone else in) where you play as the previous protagonists twin daughters and get to see their journey from going from naive teenagers who've never seen the enemy before into becoming a massive menace to the Nazi powers in Paris as they search for their father (he's gone off on his own secret anti-Nazi mission).

You know it's a good Nazi killing game because the alt-right and the alt-light are currently losing their shit and scrambling to try to convince the world it's bad actually:

(For context, it's been out for three days so calling it a "flop" when it's consistently in the top 100 games being played is less than sincere or honest - particularly since it's partnered with Nvidia and there'll be copies going out with premium video cards.)
Now that we've covered why you probably don't want to pay attention to a lot of reviews people that randos will push at you (especially if they mention Borderlands, RPGs, etc) I'd like to talk about why I think this game will have particular appeal to Hitman players (you guys). I'll also address some of the key fake criticisms at the bottom of the post.
While it doesn't provide the same sort of variety in killing options, it does provide the satisfying option to kill off all the Nazis in an area through stealth kills. You accomplish that through finding opportunities, manipulating enemies and communicating with your partner if you're playing co-op. If you fuck up, it's time to break out the big guns and blow shit up.
The level design is excellent for this, I'm about six hours into it and I think I've spent four of those on a single map where the side missions are generated to direct you to areas where enemies have respawned. Coming at them from a different angle and with a different goal encourages you to consider different approaches and different tricks. The enemies also "level up" as you do so the experience stays fresh and challenging as you get more and more options.
It also has a fun character dynamic where when the game starts, the twins have no experience with combat and killing - but are determined to find their father and prove themselves as the Nazi killers that you'd expect them to be. Their banter throughout the game is hilarious and a great way to put in comic relief at the right pacing.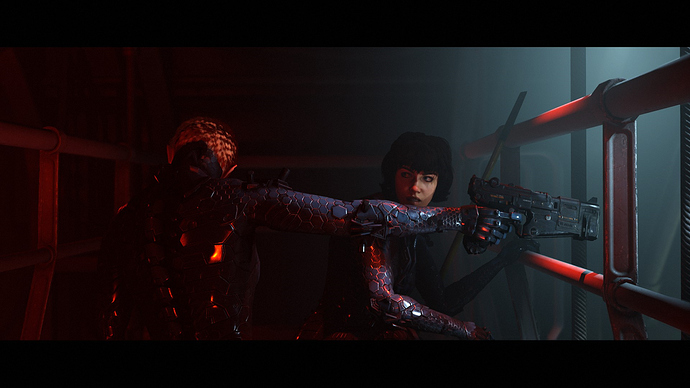 The combat is fast paced but surprisingly tactical, with success usually dependent upon you manipulating the enemy into situations where you can exploit them (tight alleyways so you can grenade them, in front of an emplacement weapon so your buddy can laser them, etc). The different weapons are customizeable to let you tailor your approach, and there's enough weapons you can build a toolkit. None of the weapons are "real" so, sorry for both you guys who worry about that.
If, like me, you're the sort of person who enjoys playing Hitman with a stealthy approach and then doing as much destruction as necessary to restore order if you fuck up - this is a game with a lot of potential for you if you'd like something a little more high energy and high impact in terms of gore (there's a lot of gore).
So is anyone else playing it? Particularly anyone else in the Australia/New Zealand time zones?
Now, the misconceptions people are willingly spreading:
It's an RPG/Borderlands type loot n shoot

The game contains simple progression trees that allow you to unlock various abilities in the order you want to and manages this through "silver coins" that you find along the way and are also granted for missions - how much or how little time you spend chasing the coins is up for your but there is no way you build a particular type of character (ala RPGs) and no inventory management of looted gear (ala Borderlands). It's just a basic progression system.

It's also very similar to the progression system in The New Colossus so if you see people saying they loved the other games but not this one because of it - they are a liar.
Your AI partner is useless and sabotages single player

In my experience my AI Partner is more reliable than a real person and even somewhat exploitable since if you're crouching she will opt to enter stealth mode whenever there are Nazis about and I can choose her "pep" ability for her. She also immediately goes to help with items requiring both sisters and immediately comes to help me when I hit zero hp. There are some bugs in the AI but overall randos in quick match up are much more prone to fucking up, ignoring requests for assistance and employing useless strategies.
Microtransactions are there to bleed out money from you

There microtransactions are literally only there for the skins that are unlockable in the game, so for people who are cash rich, time poor and want their character to look a certain way for the entire game rather than buy it as convenient or do a little grinding. The marketing on the gold bars is a little misleading about this, but there's no pain points that compel you to buy anything.
Enemies are bullet sponges and there's no tactics.

Some enemies are indeed bullet sponges, because they're giant robots or super heavily armored troops but generally speaking in any encounter there's a variety of enemies with different weights of health, armor and resilience to flinching. The tactics comes form assessing this and working out the best way to engage the enemies collectively that maximises your strengths and exploits their weaknesses - after all you're supposed to be guerilla resistance fighters.
Game sucks playing solo/can't pause in solo

Yes unsurprisingly the game that is built entirely around the idea of playing cooperatively is not as much fun to play Solo - largely the solo mod is in there for when you just want to kill Nazis or hunt collectibles and don't want to deal with someone else or subject them to you painfully picking through every area of the stage looking for a pair of 3D glasses (or you playing the parody of the original Wolfenstein 3D on the arcade machines in your base).

Pausing is largely a non-issue issue since once you've cleared an area it's safe to stand around without a pause - so basically this would only effect you if you wanted to use pause midway through action for whatever reason.
It's pseudo open world/repetitive

By which they mean… not open world but has big maps you can explore like many games, and like most of those games reuses those maps for missions, side quests, etc. The maps are specifically designed to play different from different angles and they do feel different as you run about them so they're less open world and more like Hitman maps but big enough that enemies respawn in areas on most of the maps.
It forces feminism/SJW/wokeness down your throat constantly so the writing sucks


Generally the only ways it comments on this are having the main protagonists be female (the main support character is a black nerd woman) and the Nazis being… Nazis. It also depicts are world where the liberated USA can have a black woman as the director of the FBI. So far on what I've played and there's more commentary on climate change than modern equality issues:

As a side note - anyone still confused why I don't allow people to try to edge in fascist propaganda or opinions on to the forum under "respecting their right to an opinion" may want to check out the Steam Discussion section for Wolfenstein: Youngblood - it's um… really something over there.